Practise, practise, practise…
Doing something over and over again – improves performance.
But sometimes actually doing it, is not practical. But thanks to the way we're wired, actually doing it is not necessary – imagining can often be enough.
This week's Neurotechnology Tip takes imagining to the next level by adding a few extra moves.
Mind plays
The idea of mentally rehearsing something is not new… "Imagine hitting the ball".
What the coach is trying to do ….. is get the brain a little confused, not in a bad way, just enough that the line between reality and what is happening in your head gets blurred. This works because brain's have a lot of trouble distinguishing reality and fantasy.
The resultant haze removes the anxiety and
"You hit the ball out of the park"
Well that is the theory, if you're like me, you may not have imagined things quite the way your coach suggested. You imagined the ball hitting you – and IT DID. Hey, this stuff works.
Making head movies
Researchers from the Centre de Recherche et d'Innovation sur le Sport – have been found a way to tweak the tool, to make it even more effective.
They worked with a group of high jumpers.
To begin with, they gave them a course in head movie making. Actually, we all come able to make movies, what needs to be learned is to make happy ending movies, we all know how to make horror flicks.
The jumpers were then asked to make their jump, running or not running different movies immediately before their BIG JUMP.
Movie options included
no movie
a 100 % internal run through of the jump or
the internal run through, accompanied by arm movements which mimic the jump.
Missing the bar
Movie time increased the odds that they cleared the bar.
Movies without moves improved performance by 35 %. Movies with moves improved performance by 45 %.
Movie jumps were not just high enough to clear the bar, video footage showed everything about the jump from the approach, to the curve were all better – they were poetry in motion.
Extra moves make magic
So head movies work. And to make them work better, running through the muscle moves when you hit the play button helps.
Got an upcoming maths test ?
What movie are you running – a horror, a comedy or a feel good, happy ending story.
PS. Comedies have their place, but not when the joke is on you during the maths tests.
Scripting your academic movies
In the planning phase – you do need to pay attention to the scripting, see the marker with a big red pen, making one tick after another. And a big A in the top right hand corner.
Once you've created the ace the test story, start running the movie in your head. Make sure to grab hold of you air pen and include some sweeping big tick moves and that coverted A+.
PS. You do want to make a drama not a science fiction movie. Movie making won't work if you don't open a book.
Coupling movement with imagery as a new perspective for motor imagery practice
. 
Behavioral and Brain Functions (2013)  9:8.
Aymeric Guillot, Kevin Moschberger and Christian Collet  
To wire up your brain a little each week ………………..
 Subscribe to Neurotechnology Tips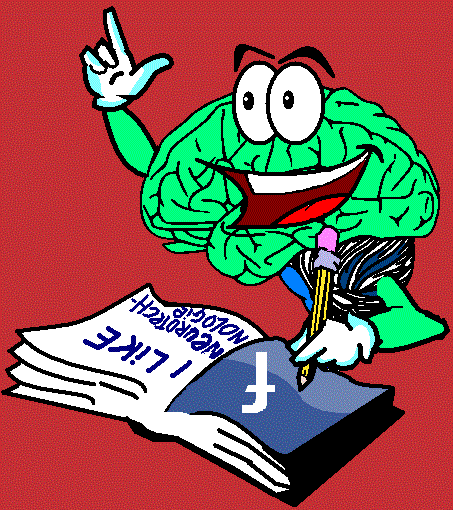 Give us a like on facebook
 Know someone who will find this post useful ? Share it on facebook, linkedin, twitter
Further reading
The 7 Big Spoons™…. are master switches that turn health on.
Hire Dr Sandy from a Spoonful of Science to be the keynote speaker at your next event. 
Did you learn something new or do you have a different perspective ? I'd love to hear from you so post me a comment below